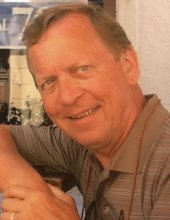 Richard (Dick) Wilcox, 75, died Friday, January 17, 2020 at Hospice Ministries in Ridgeland, MS after a twelve year battle with Parkinson's Disease. The service for the Burial of the Dead will be Thursday, January 23, 2020 at 11:00 AM at St. Andrew's Cathedral, 305 E. Capitol Street, Jackson, MS. Interment of the ashes will follow immediately after the service at the Columbarium at St. Andrew's. Visitation will be from 9:30-11:00 AM in the Parish Hall at St. Andrew's Cathedral.
A former political consultant and government affairs representative, Mr. Wilcox is survived by his wife, Sallye Montgomery Wilcox of Madison, MS and four children. They include Russell Wilcox (Stacey) of Madison, MS, Lou Ann Cavett of Madison, MS, Grant Wilcox (Kelly) of Rockwall, TX and Stacey Wilcox (Denise)of Brandon, MS. He had 11 grandchildren: Allie and Reed Wilcox, Tay, Lucy, Nash and Duncan Cavett, Jackson, Paige and Matthew Wilcox and Tyler and Jordan Wilcox. He is also survived by his sister Janice Wilcox Grady of Corinth, MS.
Dick was the second child of Reuben Davis Wilcox and Elaine Ricketts Wilcox, born in Laurel, MS on February 25, 1944. He was in the last class to graduate from Laurel's George S. Gardner High School in 1962.
He attended the University of Mississippi, where he was active in many organizations including Epsilon Xi Chapter of Sigma Nu Fraternity, the staff of the Daily Mississippian and student government. After earning a BS in Journalism, Dick worked in communication positions for the Mississippi Economic Council and Millsaps College before joining International Paper Company (IP) in 1972. His 20 year career with IP included regional and company-wide jobs in communication, issue management and government affairs. He represented IP on the Board of Directors of both the Mississippi Manufacturers Association and the Mississippi Forestry Association.
During his time with IP, Dick worked with a group of Mississippi business leaders to create the Business and Industry Political Education Committee (BIPEC) in 1980. He was a founding officer of the group that became a major political force in state elections. Dick was hired as president and staff CEO of BIPEC after his IP career.
Dick was an active communicant of St. Andrew's Episcopal Cathedral at the time of his death. He also was formerly a member of the Vestry and a Stewardship Chairman at St. James Episcopal Church in Jackson. In earlier years he was president of the Springhill, LA Rotary Club, a director of the Springhill Jaycees and state chairman of the Louisiana Jaycee Junior Golf Tournament.
It was Dick's wish, in lieu of flowers, memorial gifts be made to Hospice Ministries, 450 Towne Center Boulevard, Ridgeland, MS, 39157; St. Andrew's Cathedral, 305 E. Capitol St., Jackson, MS, 39202 or the Boy Scouts of America, 855 Riverside Drive, Jackson, MS 39202.