BIPEC Recommends Judge Jeff Weill for Court of Appeals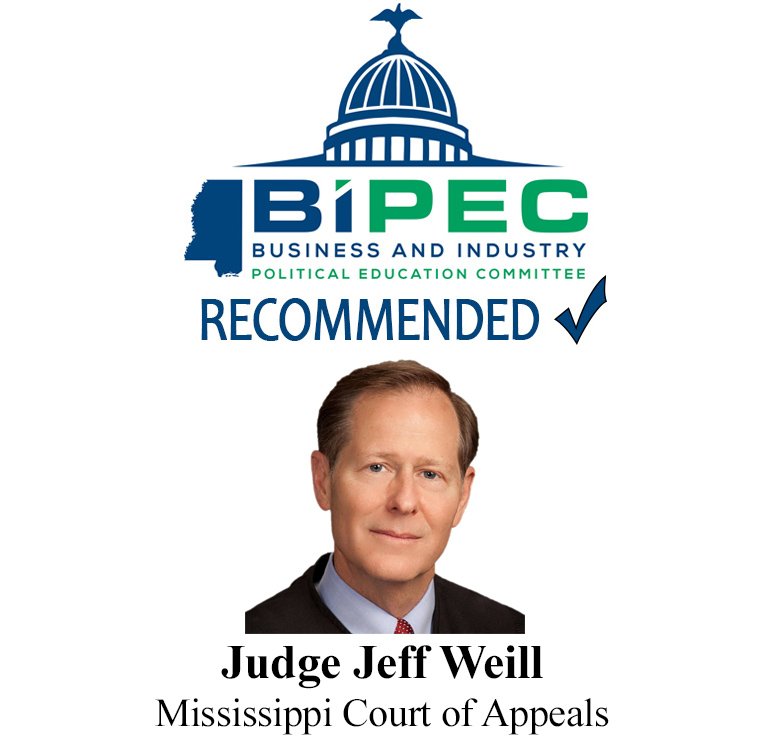 The Business & Industry Political Education Committee (BIPEC) supports Judge Jeff Weill for the Mississippi Court of Appeals.
Judge Weill has presided in more than 130 jury trials to verdict during his eight years as a Circuit Court Judge, and over 100 of those were criminal trials involving major felonies. Judge Weill also brings a wealth of civil litigation experience to the appellate bench, as a trial judge, a former litigator, and a Harvard trained mediator.
It is extremely important to the business community and representative trade and professional associations that we support candidates willing to uphold the constitutional separation of powers which distinguishes the intent, charge, and actions of the executive, legislative, and judicial branches of government. Judge Weill will make an outstanding Court of Appeals Justice and will represent our state with dignity and integrity.
For Mississippi's economy to grow and for jobs to be created, we must have an impartial, fair and rule-of-law judiciary. We believe that Judge Weill will adhere to these principles while serving on Mississippi's second highest court.
The Court of Appeals is a 10-judge panel of Judges which hears appeals from lower courts, including Chancery and Circuit Courts. The court is made up of two judges from each of the five judicial districts in the state. The 4th district includes 15 counties: Adams, Amite, Copiah, Covington, Franklin, Hinds, Jefferson Davis, Jones, Lawrence, Lincoln, Marion, Pike, Simpson, Walthall, and Wilkinson.
The election is November 6, 2018.
Campaign Website: Jeff Weill for Court of Appeals
Mississippi Voter Registration Information: Y'all Vote