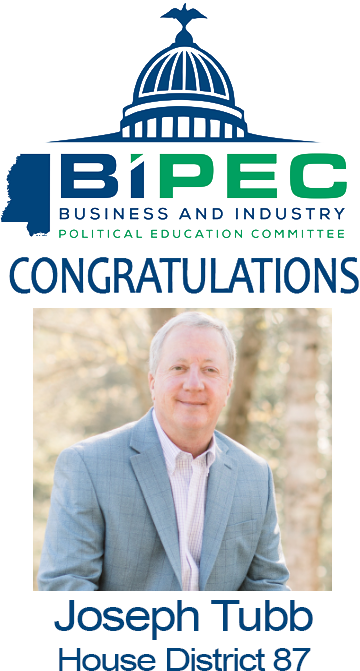 Joseph Tubb has won a special election runoff for House District 87. According to WDAM, Tubb received 58% of the vote to defeat Matthew Conoly for the House of Representatives' seat. House District 87 represents parts of Forrest and Lamar counties. This seat was previously held by Billy Andrews.
Tubb was named back in October as "Best for Business & Jobs" by BIPEC.
BIPEC reviews backgrounds of candidates running for the Legislature. BIPEC disseminates research findings to members and educates its membership on the impact that elected officials could have on economic growth and MS employers. It is an independent, autonomous organization and is not affiliated with any political party or candidate. BIPEC actions are limited to advocacy, candidate research and candidate recommendations. BIPEC evaluates many factors while considering recommendations including potential election unity within the business/employer community.
Derek Easley
President & CEO, BIPEC